TV, Media, Talks, Travel, Adventure, Awards, Events 2009
| | | |
| --- | --- | --- |
| | | |
| | United Kingdom, Oct. 11, 2009 | Rob and Kathy McKay with WABC president Steve Graves, honoring 2009 Virginia Hunt Newman award winner, anthropology professor and baby swimming author/expert, Dr. Francoise Barbira Freedman at Cambridge University. |
Kathy and Francoise crossing the old wooden foot bridge (known as the Mathematical bridge) into the

awe-inspiring

and regal 800 year old Queens college, at Cambridge University. In addition to being a prolific author, Francoise is also the founder of Birthlight, a charity focusing on the holistic approach to pregnancy, birth and babyhood.
England Rob and Kathy McKay presented a one day baby swimming work-shop during WABC 2009, held at Lauren Heston's Little Dippers Baby Swim School in Brighton, England on Oct. 6th. WABC 2009 World Aquatic Babies Congress the 10th Biennial International educational conference for leading learn-to-swim program directors and teachers. link: WABC 2009
| | |
| --- | --- |
| | |
| 25 participants attended Rob and Kathie's pre-WABC workshop, from Greece, Israel, Japan, The Philippines, Bermuda and the United Kingdom. | The 2009 Virginia Hunt Newman Award winner Dr. Francoise Barbira Freedman, England/France along with previous recipients Rob McKay, USA, Terje Stakset, Norway and Prof. Jose Fontanelli, Brazil. Missing from photo are Steve Graves, USA and Yoko Yagishita, Japan. |
Kathy and Rob presented their talk to the international WABC audience, entitled "Are you Hands Where Your Heart Is?"
South Beach (Miami) to Palm Beach. This WB network news show featured the babies and parents of the Lifestyle Swim School on Wednesday, July 8, between 7:00 and 9:00 am. Veteran reporter Karen Posada covered the segment. This unique news show is simulcast on both TV and the internet ("simultaneous broadcast", ). In Boca Raton, South Florida Live appears on Comcast TV channel 14.
POLAND Rob McKay conducted two day work-shop for (PSPN)
The Polish Association of Baby Swimming Krakow, March 21-22, 2009
Over 90 swim school directors, owners and teachers participated in Rob McKay's baby swimming workshop for PSPN, in Krakow, Poland
| | |
| --- | --- |
| | |
| Dr. Ewa Dybinska of the prestigious Sports Academy University, in Krakow with PSPN president and founder Iwona Turant. | Rob conducting a water session viewed by attendees some who traveled over 12 hours from as far as Gdansk on the Baltic Sea. Many other cities and towns were represented including a number of schools from Warsaw. |
| | |
| --- | --- |
| | |
| Rob conducting Sunday morning lecture | Poland TV 3 Interviewing Rob |
PSPN Vice President and conference organizer

Magdalena Dąbrowska-Gawrysiak

left. Rob's teaching assistant for the week-end Ada from Bema, demonstrating our team teaching approach.

Happy baby swim student participating in Rob's week-end workshop in Krakow.
The Amazing Team Bema, Rob's hosts in Krakow. Left to right Dr. Grazyna Kosiba, Ada: baby swim teacher, Lena: translator, tour guide, driver and teacher, Marek Kosiba: Owner of BEMA sports programs, former college professor, Krakow conference organizer, and Rob's main host.

Kasia and Rob at Oskar Schindler's factory made famous from Steven

Spielberg

's movie Schindler's List.
The Tyniec Abbey

and Monastery

was founded in the 11th century. It is beautifully located on

a

limestone hill

in the village of Piekary;

over looking Marek's pool, bringing harmony and prosperity.

Marek and Rob planning for the workshop.
Florida: Three Newman Award Winners Meet to discuss positive, non-traumatic swim lesson experiences... April 4th and 5th, 2009
Included was author and teacher Kathy McKay
Terje Stakset Head of Norwegian Lifesaving Association and Baby Swimming Oslo, Norway, Kathy McKay, Rob McKay, Steve Graves President World Aquatic Baby Congress
These swimming leaders met to discuss ways to educate parents on identifying programs that are concerned about the well being and happiness of children during their swim lessons. Many programs say they are positive, or non-traumatic but are actually forcing the children against their will, creating fear of learning, fear of teachers and fear of the water. The goal of this group is to provide a loving and warm learning environment for all children through-out the world. "Do no harm, fear contracts, love expands". If children are crying or struggling in a swim class something is amiss. The true test is, does you child look forward to attending swim class.
Florida: YMCA National Masters Swimming Championships at the Fort Lauderdale Aquatic Complex,
April 17,18 ,19 2009 Rob met his old Cedar Rapids, Iowa YMCA teammates for their 40 year reunion. They were the 1969 runner-up and 1970-1971 National YMCA Champions.
We reunited after 40 years and once again swam as a team, in honor of our devoted coach Jim Gilchrist
| | |
| --- | --- |
| Then 1970 Springfield, Illinois | Now 2009 Fort Lauderdale, Florida |
| | |
| Check out back row/middle | Who's the guy in the blue Cedar Rapids, sweatshirt |
200 free relay with the Krizan boys, Dan, Ken and Tim sons of legendary Washington High School coach Hal Krizan

Rob with teammate all around great guy John Kinsella, former world record holder in the swimming mile and 1970

Sullivan Award

winner.

T

he Sullivan Award is

known as the

Oscar

of sports awards

.
TV, Media, Talks, Awards, Events 2008
International Swimming Hall of Fame Honoree Week-end 2008
Professor Jose Fontanelli of Sao Paolo, Brazil, the 2008 Newman award winner, for compassionate and gentle baby swimming, May 10, 2008.
Rob McKay and Professor Jose Fontanelli posing with tribute to Jacques Cousteau at the International Swimming Hall of Fame 2008 Award Ceremonies in Fort Lauderdale, Florida
One Step Ahead: Our book featured in premier infant toddler catalog One Step Ahead Baby - Beach & Pool Fun summer 2008
Ebabymagazine Featured in April 2008 issue
TV, Media, Talks, Awards, Events 2007
Rob and Kathy in St. Petersburg, Florida, with friend the forever young Dr. Don Ardell, world age group triathlon champion and global speaker and author on wellness and health.
Kathy presenting talk at World Aquatic Baby Congress Conference in St. Petersburg, Florida, Oct. 2007
St. Petersburg, Florida World Aquatic Babies Congress • World Aquatic Babies & Children
9th International WABC educational conference - for leading learn-to-swim teachers and program directors, October 21, 22, & 23, 2007
Monday 22 October 2007
4:15-5:00

Panel Presentation
by

Newman Award Winners

Newman Award Winners: Rob McKay, Terje Stakset, Yoko Yagishita

Rob McKay - United States


Co-Owner of Lifestyle Swim School
Boca Raton, Fla. USA
Co Author: Learn to Swim (book); Diaper Dolphins I & II (dvds) and
The Experts' Guide to the Baby Years (book - co-author of chapter on baby swimming)

Recipient of the Inaugural Virginia Hunt Newman Award in 2004. His 'gentle journey' philosophy and methods adopted widely in the US and around the world for babies and young children in developing aquatic skill and the joy for the water.



Terje Stakset - Norway


A Very Gentle Start and Superman

Manager of the Norwegian Lifesaving Federation in Oslo & Barium, Norway
Author: The Truthful Face of Baby Swim and How to Teach Young Children to Swim (dvds)

Recipient of the Virginia Hunt Newman Award 2006. Second generation swim teacher. He has been an instructor in swimming and life saving for 27 years, and a teacher of baby swimming for 16 years. Moreover, he trains instructors in swimming, baby swimming, lifesaving, CPR and first aid.

Yoko Yagishita-Japan




Director of Swimming for club openings for the Tipness clubs

Recipient of the 2007 Virginia Hunt Newman Award. She has revamped or created baby swim programs in over five cities and in doing has trained over 500 teachers.

C

ombined the best of Western technique with Eastern to make a culture and community of nurture, joy and fun for mothers, fathers and their babies. Scheduled to open program in the Tokyo National Gymnasium.
Tuesday 23 October 2007
8:45-9:30

Presentation
followed by
discussion

Kathy McKay- United States
Co-Owner of Lifestyle Swim School
Boca Raton, Fla. USA
Co Author:
Learn to Swim (book)
Diaper Dolphins I & II (dvd)
The Experts' Guide to the Baby Years - (co-author of the book's chapter on baby swimming)

Www.BabySwimming.com - The Gentle Journey is one of the most viewed and linked-to baby swimming sites on the Internet. In the pool teaching and learning and now sharing her experience and techniques from the highly renowned Lifestyle Swim School program.
Toddler Magazine Water Smarts Summer Issue 2007
How to help your toddler to get comfortable in the water. With Rob and Kathy McKay.
Fitness Magazine, Mind, Body, Spirit August 2007 issue
Family fitness make-over page 94. Age and Activity 3 to 18 months. Rob and Kathy McKay
Rob and Kathy's book in German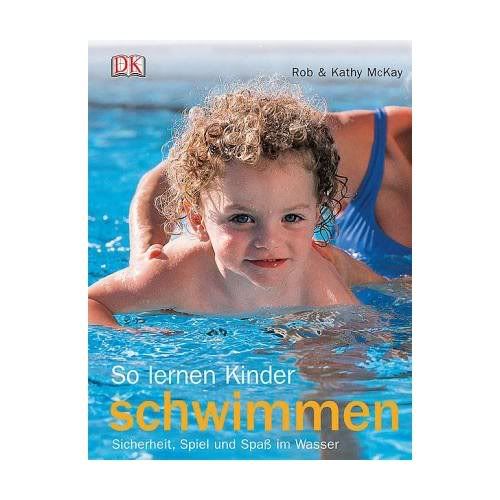 New Zealand Swimming Coaches and Teachers Association of New Zealand (NZSCAT) May 24, 25, 26, 2007
Wellington, New Zealand, NZSCAT conference, Rob McKay international guest speaker. Also conducted baby swimming workshop.
| | |
| --- | --- |
| | |
| Brett Naylor, President of the New Zealand Swim Coaches and Teachers Association with Rob McKay on Top of the Mountain Reserve several thousand feet STRAIGHT up over Christchurch, NZ. | Rob with Kiwi friend in Queenstown, New Zealand at the wharf. |
Rob McKay conducting an in water demonstration baby swim class to an audience of teachers and swim school owners, at Swim City in Wellington, New Zealand
Mystical Queenstown on Lake Wakatipu with the Remarkables mountain range as the backdrop, South Island, New Zealand.
International Swimming Hall of Fame Honoree Week-end
Fort Lauderdale, Florida, May 11-12, 2007
Rob, Kathy, Heather and Brianne McKay were honored to attend the Hall of Fame ceremony on Friday evening. Rob and Steve Graves (president of the World Aquatic and Babies and Childrens Congress) presented Tokyo's Yoko Yagishita with this years Virginia Hunt Newman award. For background on the award see the Hall of Fame paragraph below. (May 8th, 2004)
| | |
| --- | --- |
| | |
| Steve Graves President of WABC, Yoko Yagishita and Rob | Rob with Jim Ellis who's life is portrayed in the movie Pride |
Olympic Champion Amy Van Dyken, Yoko and Rob
Click on the fish to continue with TV, Media, Talks
All visual and written material copyright 1999-2013 Lifestyle Productions